Your Complete Mobility Solution
Mobi Trainee's primary objectives are to promote international mobility and to take an active part in training for young people.
We define and plan your mobility programmes with you
Thanks to our many partner companies, we can offer you high quality internships, which are appropriate to your students' vocational training
Our experts are committed to providing you with tailored solutions foraccommodation,

transportation,

meals and

on-site activities.

We take care of the entire administration workload for your project.
Mobi Trainee is with you every step of the way throughout your placement
Mobi Trainee prepares placement kits to welcome students upon their arrival.
Groups are greeted at the placement location and supported throughout the project.
Our team is available 7 days a week to respond to, and handle, any needs of the course participants during their internship.
We carry out evaluations with the companies at the end of every internship placement.
More information
Who Are We?
Mobi Trainee takes care of the creation and fulfillment of your Erasmus placements.
Whether you are looking to secure placements for your students or develop your Erasmus mobility project in its entirety, we will adapt our package to the needs of your college or university, to ensure a successful outcome for your projects.
Our expertise and knowledge of every country participating in the Erasmus+ programme enables us to provide you with service and support, thanks to transport and accommodation solutions, in addition to our internship search.
Mobi Trainee have organised projects for students from a wide range of vocational training backgrounds
Caring Professions

Business and Sales

Service and Reception

Catering and Hospitality

Management and Administration

Technical Professions
Your industry sector isn't on the list? We can adapt to your needs!
More information
Since 2016, our team has provided support for Mobility placements in Germany, England, Spain, Ireland, in Italy, in Portugal and Malta.
Just ask us for information about additional destinations!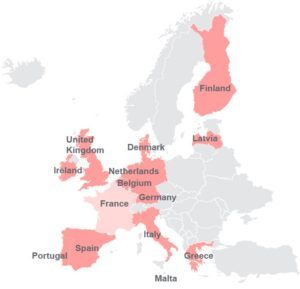 More information
Get in Touch
A Mobi Trainee consultant will evaluate your project
Quote
Proposal of a tailored support plan
Quote Approval
Project is approved and the partnership contract is drawn up
Project Launch
Internship placement search and organisation of additional services are under way!
Very reliable and very professional organization. Staff are very available and very responsive. A question ? an immediate response. Very efficient overall management.
Good support in the overall achievement of mobility
Great support, very good responsiveness. Always present in need. Management, organization and sharing are very advanced. It was a pleasure.
Enriching experience for students in their academic and professional career. Very nice adventure!
A team attentive, available and responsive. An enriching experience for young people who discover the profession with a very good internship. A family placement on the whole very successful with satisfied young people and a progress in the language in particular.
It was a fabulous experience. My internship, my family and the city, everything has been perfect. Nothing negative to say about Mobi Trainee.
I recommend this experience to each person who have the opportunity to do it. This trip allowed me to learn about other customs, as well as to develop my skills in the language of the country. This internship allowed me to learn a lot about myself. It was a very pleasant and enjoyable stay.
An incredible overseas experience. Mobi Trainee accompanied me throughout my stay and helped me when I needed it.
I had a great month, the trip was really great! I learned a lot of things. My internship was good, my colleagues tried to communicate with me, even if I did not understand everything. We tried to have some discussions. The city is very pretty, the people are welcoming. This trip made me want to…
" The truth is that we are very happy to have collaborated with you. You have a very good organization and a magnificent attention. The trainees, Amandine and Catheline, are great, respectful, kind and very polite. We are very grateful and happy. Thank you"
"Laura is getting better every day. She already understands us better and does a lot to learn. She is enterprising, active and has very good skills in customer relationship, she is caregiver and learner. We are very happy with her. She also eliminates her toxins with our natural diet. We hope to make her evolves.
"The third week was very good, due to the weather conditions the trainees were not able to work in the field, but they reinforced their learning in the handling room, egg collection, grading, packing, etc.. Our score is very good for both of us, they knew how to work in total autonomy. We are very…
Contact us!
Our expert team are here to help!
For further information, you can contact us by phone or email